I thought I'd make a sticky explaining forum functions for newer members who may not know all these things. Each post will cover a different function.


PLEASE DO NOT POST HERE MEMBERS~
I am in the process of getting screenshots of the forum. Hang tight for a little while.
Alrighty, let's see how this goes.
Read Every Part of the Post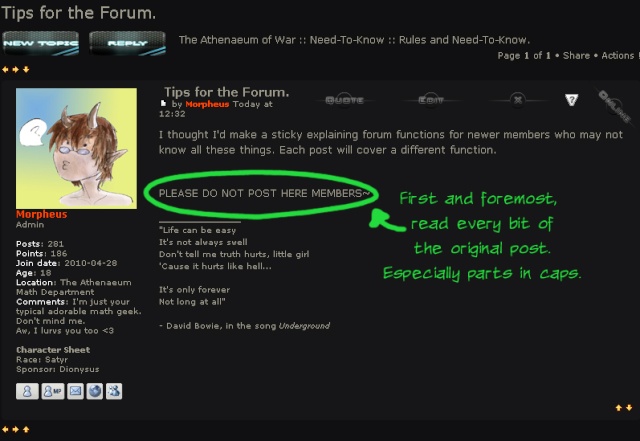 Is this User Online?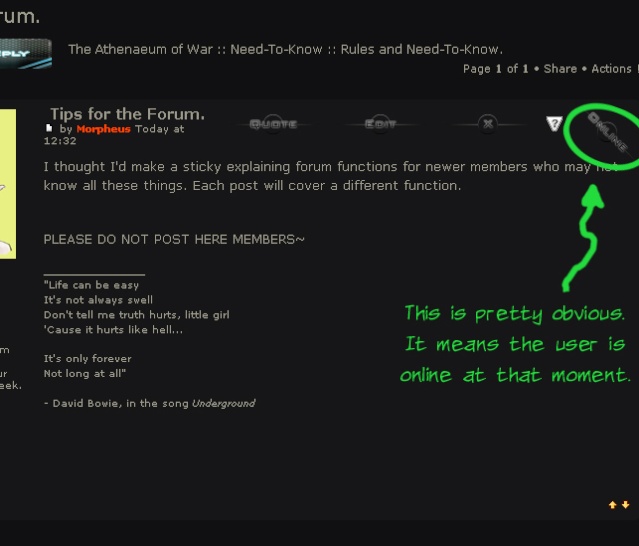 Forum Links
How to Quickly Get to the Bottom or Top of the Page, and to other Topics
The Edit Button - Use It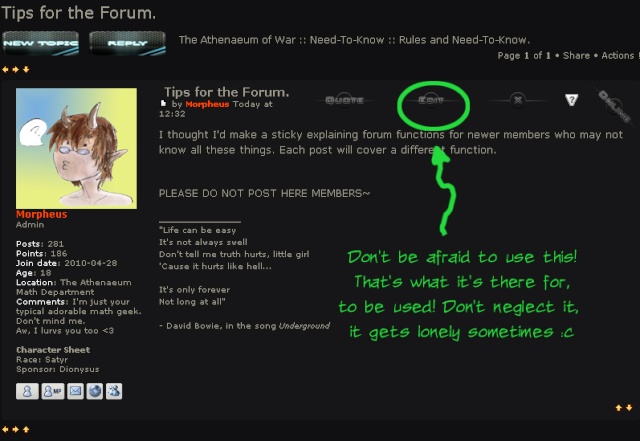 Nifty Buttons
Want to Post a New Topic in the Same Subforum?
And finally, the advanced reply button.
Goddammit, some of the pictures got cut off. *shakesfist*
Sorry about that, click on the picture to see any cut off text.
Last edited by Morpheus on Fri Oct 01, 2010 2:25 pm; edited 1 time in total
That text on the side says, I have no clue what this button does. Because I don't. :B
Thought I'd point out that there is a FAQ at the top lol. I forgot about it for a bit.
http://athenaeum.forumotion.net/faq.htm
Most of the questions/answers are the default q/a that came with the forum, so they answer questions you may have about posting and whatnot. I'll still do a visual explanation though, sometimes it's easier to grasp things with a visual.


Similar topics
---
Permissions in this forum:
You
cannot
reply to topics in this forum