Name: Adratos Xylander
Age: 17
Gender: Male
Species: Centaur
Sponsor: Ares
Personality: Rude and aggressive make Adratos an unfriendly guy. He's not the typical gentleman and it's always up for a fight. Is what I like to call a very male man, fighting is his favourite thing and can be arrogant at times. Deep heart he can protect the ones he gains trust or cares for but he won't admit to like anybody that easily
History/ Future: Adrastos lived together with a manad of other centaurs, deep in the forest heart. Adratos had a normal childhood, was a little prankster and ended up always by getting hit by his parents to learn his lesson. As he grew older, his interest in girls became bigger and bigger, making him falling in love with one of the centaur ladies. Unfortunatly for him, the girl was only playing with his heart and ended up cheating on him. With a broken heart, Adratos closed himself and never opened his heart again. He started dedicating his life to help his father, chef of the manad, on fighting business and came out to be a pretty good warrior.
Ares, who had been watching him through the process, asked him if he would like to join the Atheneaum of War and he just couldn't refuse. It was a lifetime opportunity, so he packed his weapons and off he went.
Preferred Weapon: Bow and arrow
Ability: Purely physical. Uses a bow and arrows or a long sword
Also Note: He has several scars on his back from training
Classes:
- Rituals and Temple Works
- Fighting: Spears and Axes
- Fighting: Archery
- Battle Strategy
- Weapon Forgery
- Healing
Appearance v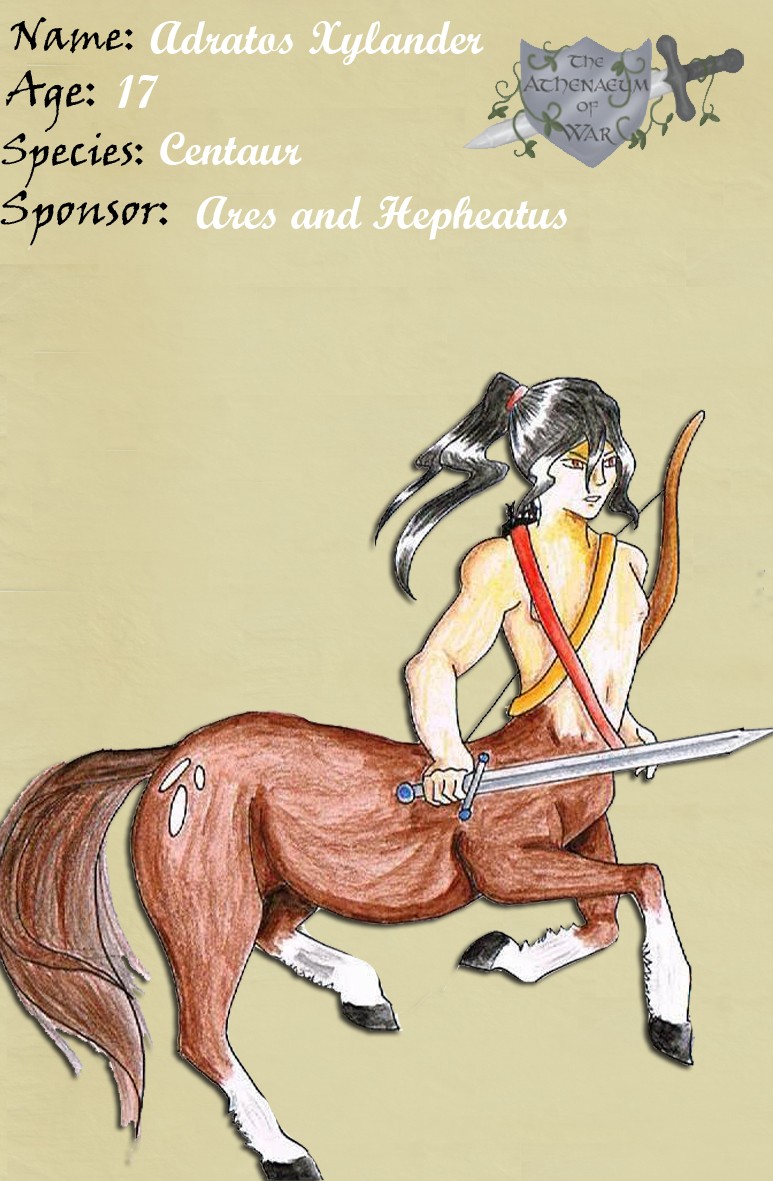 Finally, a guy! How's it goin?
Raivynne wrote:Finally, a guy! How's it goin?
Well, I'm just waiting for acceptance but it seems that everything is good :3
wow leonidus and adratos do have things in common. There either gonna get along or hate eachother lol.
Well since Leonidus is a guy maybe they can get along xD Fighting partners >D


Similar topics
---
Permissions in this forum:
You
cannot
reply to topics in this forum