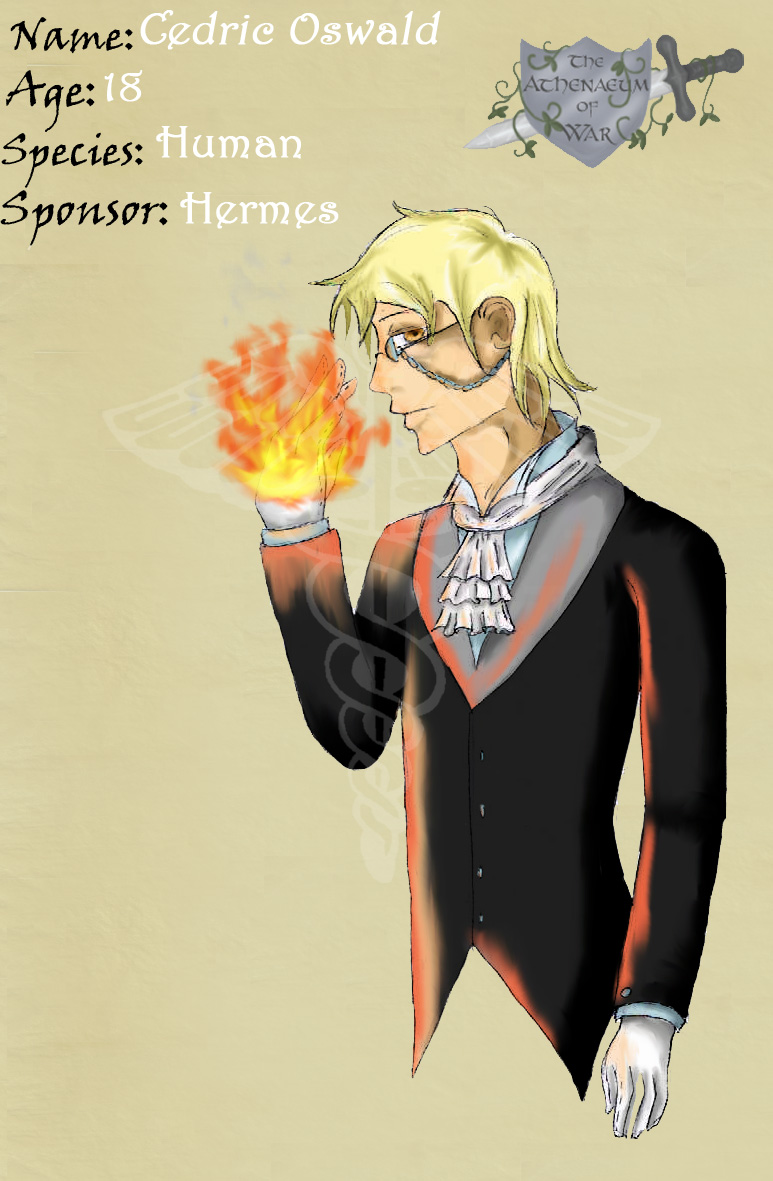 Name:
Cedric Oswald

Age:
18

Gender:
Male

Species:
Human
Sponsor:
Hermes
Personality:
Cedric was always a gentleman, probably due to the time he was educated. He is always polite and a very charming guy. But he's charming without noticing and by that, I mean; he can be flirting with a woman, without intending to be flirting. He's also very intelligent and masters some foreign languages such as Latin, French, Italian and even a bit of Portuguese. About fighting, he tends to avoid it but seeing that Athenaeum was all about it made him re-think why he was there. He decided that he would only fight when the time comes.
History:
Cedric was born within a middle-class family during the reign of Queen Victoria. His father had a carriage business, very popular for his nice and tender horses. Cedric never wanted a life full of meaningless parties and spending his father's money, so he decided to work for him as a carriage man. He also loved to read books and discovered that his family was descendent of fire magicians. He started to study fire magic in secret, away from his parents' eyes. He was quite amazed to see how quickly and easily he had mastered the fire. His stamina was better than he had ever thought. He kept working for his father, where eventually he also delivered messages. Hermes, who hadn't got any students by then, kept a close eye on Cedric, seeing how dedicate he was on his work. One night, Hermes appeared in Cedric's dreams and told him about the Athenaeum. He guided him to it, trying to convince him to come so he could enrich his knowledge about magic and his family. When Cedric woke up, he had decided that he would give the Athenaeum a try. He told his parents he wanted to travel around the world and that he would give them news while he was away. There was only one problem: Cedric didn't know where this Athenaeum was located and the research he made came down to nothing. Disappointed, he went back to sleep and dreamt about that unreachable place. By the time he woke up, he wasn't in his room and Hermes was next to his bed. The god explained where he was, calming Cedric down about his parents- Hermes had forged a letter of Cedric, telling that he had left to discover the world. Cedric was now in a new environment, full of mythical creatures, in the 4th year. It's also a bit hard for him to accept the new Gods.

Preferred Weapon:
Backsword

Ability:
Masters fire magic and can occasionally use the backsword. He also has an old Colt (revolver) that he rarely uses. Hermes has also granted him with some speed above the regular human.
Classes:
Swords and Daggers
Hand-to-hand
Fire
Healing
Mithology and History
Ritual and Temple Works
Magic:
Fire
Note:
He can't see a thing without glasses >>'
Last edited by Cedric Oswald on Sun Sep 26, 2010 11:14 am; edited 2 times in total (Reason for editing : Picture posted :3)
Welcome! I'm a newcomer as well!
_________________
~This is wanting something; this is reaching for it. This is wishing that a moment would arrive. This is taking chances, this is almost touching what the beauty is.~
For those who haven't met Damien (Addi's water puppet), this is what he looks like (possibly... not necessarily finalized yet

) http://elnamis.deviantart.com/gallery/?catpath=scraps#/d3dm0vj



Posts

: 1906


Join date

: 2010-09-10


Age

: 31


Location

: Eisodos

Character Sheet
Race: Siren
Sponsor: Hera
Health Bar:


(380/400)



O hai der. If you need any help with the forum, don't hesitate to ask me or Mnem, we're the forum adminstrators.
I'll see if I can change your name color...
EDIT: Changed your name color, you're now in the 4th year group (that's where 18 year olds go, I think .3. )
Thank you for the warm welcome, ladies and gentleman ^^


Similar topics
---
Permissions in this forum:
You
cannot
reply to topics in this forum